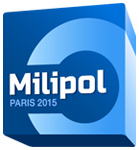 We have confirmed our place at this year's Milipol Paris Exhibition, which is being held at the Paris Villepinte Centre over the 4 days of November 17th – 20th.
The international Milipol Trade Show is recognised for its professionalism and the quality of exhibitors, matched by a exhaustive range visitors attending from around the world.
The show is a higlight of our exhibition calendar and a perfect opportunity to meet our international partners – old and new.