With customers across the UK, through Europe and further afield, Price Western means many things to many people. What everyone gets is outstanding customer service and a commitment to excellence in design, delivery and our environmental and community-based responsibilities.
Price Western CAESER Supplier Sustainability Report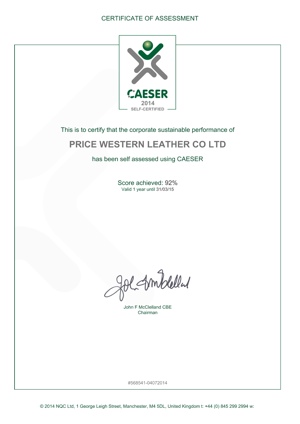 About CAESER
CAESER is an award winning and accredited supplier engagement solution designed to enable companies to engage with their suppliers to understand and improve the sustainability impacts of their supply chain.
CAESER has been developed in response to the international agenda on sustainability. Suppliers are assessed on the key principles such as UN Global Compact, International Labour Organisations (ILO) Conventions, Ethical Trading Initiative (ETI), ICC Charter as well as governmental standards. CAESER addresses the following key sustainability areas:
Environmental Protection
Labour Standards
Human Rights
Health & Safety
Ethical Conduct & Compliance
Economic Development
Special Areas according to each business activity
CAESER Rating Certificate & Further Information
Click the image to the right to see our CAESER Supplier Rating Certificate on your screen. If you would like to know more about CAESER ratings, please download the CAESER brochure (click here), or email Price Western at info@pwluk.com.